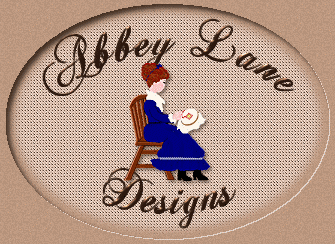 Welcome to Abbey Lane Designs

We are currently showing our Stitch'N'Tuck Banner kits,
Please follow the links at the bottom of this page to view pictures.
Each kit includes the following:
One pre-sewn, ready to use 6" fabric Stitch'N'Tuck banner
One 6" wire heart hanger
The design shown
Button(s), charm(s), and/or tin stencil(s) to complete the design
Complete instructions.







Our Stitch'N'Tuck banners and our designs are sold wholesale only.
If you are interested in purchasing our products retail, please
contact one of the fine needlework shops listed below.





Click below for pictures of completed kits.
email
Abbey Lane Designs