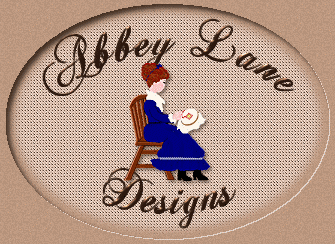 Abbey Lane Designs sells wholesale only to needlework shops. If your local shop or internet shop does not carry our fobs, please let us know and we will be glad to send them our information. If you do not have a local shop or an internet shop that you use, we would be glad to have one of our local needlework shops that carry our fobs send your order to you. Just drop us an email and let us know what you want and we will take care of the rest. Your fob will arrive in a timely manner from one of our local needlework shops. For shops, please just drop us an email to gastler@core.com and we will forward our wholesale information to you. Or you can phone us at (314) 434-5722
Elegant Scissor Fobs
Our elegant beaded scissor fobs are created with a variety of
beads and charms including Semi-Precious Gemstones, Czech Glass, Swarovski Austrian Crystals, Bone and Clay beads, Turquoise, Semi-Precious Chips, Sterling Silver, Silverplate and Pewter.
All fobs cannot be duplicated exactly due to the availability of
the beads. We will do our best to duplicate one that is shown if
that is what you want. Also, consider requesting other color
schemes such as, mauve and green; red, white and blue; green only; black and grey and white; pastels (blue, pink, green and white); black and gold; all red; all blue. Pick a theme for charms to be added or request one of our large antique silver hearts. Some themes we've used for charms are stitching, sewing, teapot and cup, antique purse and shoe, bee and flower, dragonfly and ladybug, hummingbird and butterfly or lighthouse, flag, sewing machine. We have never had a customer unhappy with what we created for them. We're sure you'll be pleased also.
If you like what you see, drop us an email. Just click on
the little envelope icon at the bottom of the page.
We accept payment by PayPal (email is gastler@core.com),
Money Orders or checks.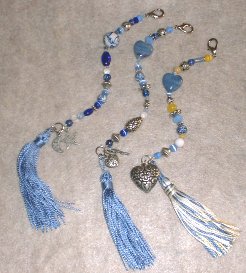 Blue with Moon and Star charms
Blue with Stork Scissors and Decorative Heart charms
Blue and Yellow with Large Decorative Heart


Black and Gold with Bee and Sunflower charms
Black and White with Decorative Heart and Key charms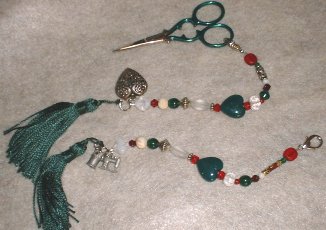 Burgandy and Hunter Green with Large Decorative Heart
Burgandy and Hunter green with Sewing Machine and Spool of Thread charms



Lavender and Dusty Green with Stork Scissors and Thimble charms
Lavender and Dusty Green with Victorian Shoe and Purse charms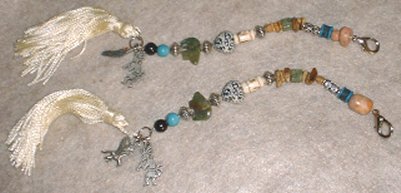 Native American with Kokapelli and Feather charms
Native American with Kokapelli and Eagle charms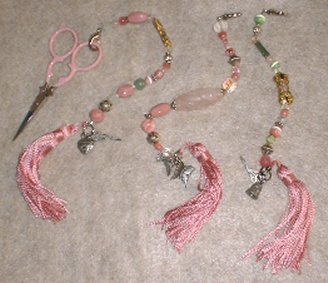 From left to right
Pink and Green with Decorative Heart and Stork Scissors charms
Pink with Hummingbird and Butterfly charms
Pink and Green with Stork Scissors and Thimble charms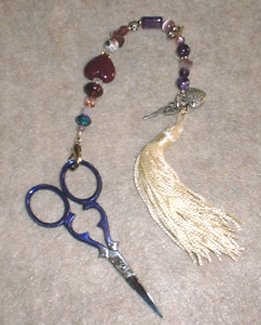 Purple with Stork Scissors and Decorative Heart charms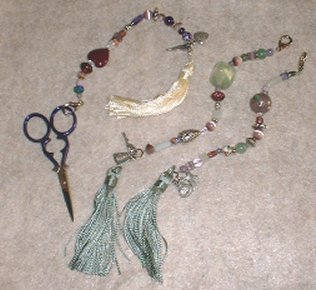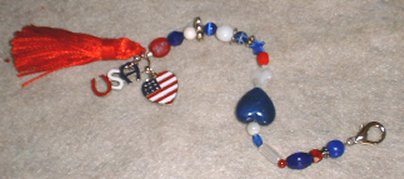 Red, White and Blue with Enameled USA and Flag Heart charms
Drop us a line



Abbey Lane Designs
12020 Quality Lane
Maryland Hts., MO 63043
(314) 434-5722



Taffy's Treasures has the neatest project floss totes and books. You just have to check them out!! The tote holds 35 skeins of floss and the book holds 70 skeins. They each have a place to write the symbol and the color number and a place to keep a needle already threaded with that color. What a great way to keep your threads organized for a project. Click on the link above and check them out! Be sure and read the "Stuff People Say" page. And tell Taffy I sent you. 8o)
Web Design Copyright © 2001-2002
by Susan Gastler
dba Abbey Lane Designs