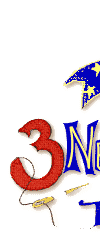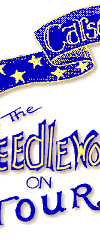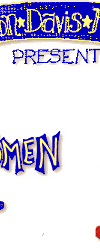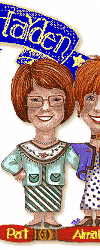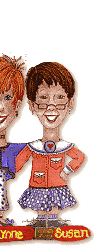 NORMA'S SPRING STITCHING AFFAIR
featuring the debut of
"THE 3 NEEDLEWOMEN ON TOUR"
Pat Carson, Susan Greening Davis, and Alma Lynne Hayden


DATE: April 27, 28, 29, 2001
PLACE: Rock Lane Resort, on beautiful Table Rock Lake,
Indian Point Road, Branson, MO
CONTACT: Norma Wendt, P. O. Box 2045, Branson West, MO
PHONE: (417) 739-2156 FAX: (417) 739-9896
EMAIL: nwxst@tri-lakes.net

On Friday evening, you will be greeted by the three celebrities, and Susan will instruct you in a very special workshop. It will be one you'll finish and enjoy over and over. Oh yes, you'll also receive a gift to remember the weekend during this time.
On Saturday, you'll study with all three teachers on a project that will delight you with its beginning to 'finishing' instructions. This will be another project that you'll want to hurry and complete, so that you can use it.
Saturday evening is the 'pajama party'. There will be prizes, door prizes, an informative presentation, and another special gift for everyone.
On Sunday, Pat and Alma Lynne will be teaching their special workshops in their own true styles. During each teacher's instructional time, the other two 'stars' will be assisting you. All three at once for each class!!!


THE CAST
PAT CARSON


Pat was given her first cross stitch lesson by Ginny Thompson in 1973, and has been a missionary ever since. She has studied and received many diplomas from the Danish Handcraft Guild in Copenhagen, Denmark. She has also attended classes at the Royal School of embroidery at Hampton Court in the U.K.

Pat is an international teacher of counted thread and embroidery techniques, and is well known for her patience and the attention given to each of her students.

Pat is the designer and publisher of the ever popular Precious Moments and Cherished Teddies designs.






SUSAN GREENING DAVIS

Susan is known as a needle technician. She has the pleasure of designing and teaching for shop owners, guilds and events for the last twenty years. Susan studied her trade in Denmark and with the Danish masters when they instructed in the U. S. She was the education chairman for the International Needlearts Retail Guild for four years, and has chaired many panels, lectured, and hosted charitable events to promote the needlearts.

Being known as the 'Gadget Gal' in the industry has allowed Susan to teach how many of our beloved 'toys' can improve your needlework skills. She is a 'hands on' teacher who can teach left handed as well as right handed students.






ALMA LYNNE HAYDEN

Alma Lynne is the designer and publisher of counted cross stitch books, quilting patterns, doll patterns, fabric applique patterns, and tole painting books. Her work has been licensed for fabrics, figurines, rubber stamps, T-shirts and paper products. She has authored three hardcover publications on counted cross stitch and fabric crafting.

Her 'joie de vive' style is recognized throughout the world, and she is happy to be joining Pat and Susan on this great stitching adventure. Come and share her love of life through her needlework, and become a friend of
The 3 Needlewomen on Tour
!!!


ACT 1

It's an opening act you won't forget! Join these stars and get their autographs,
and share stitching stories that will have you feeling as if you're all best friends.
At many of the locations, you enjoy a specially designed project and, as always, a
special treat will be your favor.

ACT II

Education is the format for the events. This is what it's all about. The
3 Needlewomen will dazzle you with their knowledge, some history, the
beautiful projects, and some giggles along the way. The projects and
time format will vary in different locations.

ACT III

A pajama party you will not forget!!! Can you imagine what the celebrities will
be wearing??? There will be prizes for different costumes, and a
commemorative gift.
Oh, lots of door prizes throughout each event, too!
MISSION STATEMENT
We are dedicated to sharing the joy of needlework through education.
PLEASE CLICK HERE FOR PRICING INFORMATION

Visit www.gloria-pat.com for more information and color photos.
Drawings & brochure information ©CDH
Site design and layout by